We always accept donations online. It's safe, secure and easy! We are a 501(c)3 not for profit organization so all donations are tax deductible! Click here to make a donation!
Donations can also be mailed to: PO Box 76089 OKC, OK 73147.
Wish List
There are many dog and cat items the rescue is always in need of that you can donate!
Towels, Blankets, Pet beds
Collars, leashes
Treats
Toys
Cat litter
Puppy pads
Pet food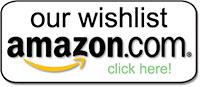 Our Amazon Wish List is kept up to date with specific items that we are in need of. It's an easy way for you to make your donation more personal without having to leave the comfort of your home.